The position of Maid of Honor is a very important role to have. This woman is the attendant to the bride on her wedding day and more importantly there for the bride in anything wedding related. Presently, maids of honor have been honored on the wedding day with a "stand-out" piece worn down the aisle and for the duration of the ceremony and reception. The belief is that a maid of honor is adorned differently from the other bridesmaids to show a special preference to the woman from the bride.Ultimately, the bride chooses how to honor her maid (matron). Below are some ideas for the bride to embellish her maid of honor.
The easiest choice to differentiate the maid of honor from her bridesmaids is a a colored sash! If your bridesmaid's dress is without a sash add a complementary colored sash to your maid of honor's waist. For bridemaid's dresses that have sashes, just switch the color with another color in the wedding colors.
For the bold and whimsical maid of honor, a printed dress is a great choice! Floral print is usually done, however explore with different prints that will seamlessly fit into the wedding theme! For example for summer or spring try a chevron printed dress. Another point to keep in mind is that all the colors included in the print match the bridesmaid dresses and the bouquets.
Does the task of finding the right colored sashes and prints seem daunting? Just add a small rhinestone sash belt! Rhinestones usually go with any color, pattern, or theme! This an easy way to add a special touch to your maid of honor!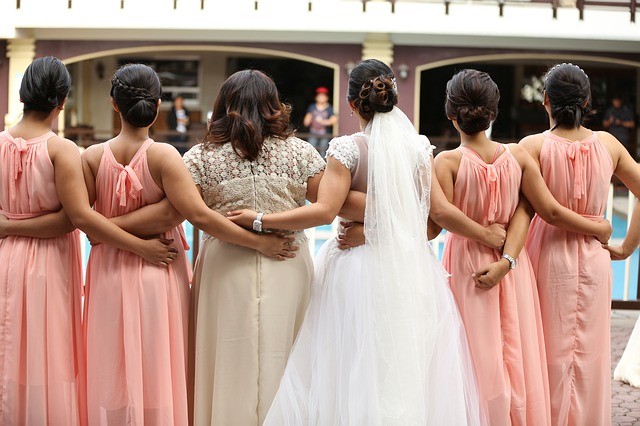 Also, the bride can choose to have all her bridesmaids have the same dress through and through for the sake of the wedding photos. A subtle way to honor your maid is to add a statement necklace to her ensemble. Most bridemaids dresses are usually solid colors, so a statement neckalces is very easy to match. The necklace should be intricate enough to have a notciable difference but not to attention getting, so as to not upstage the bride and her attire.
An even subtler difference is to add a single different colored flower to the maid of honor's bouquet. Ideally the flower should be a flower that is found in the bride's bouquet to symbolize the special bond between the two.