Elaborate, colorful, and large flowers are usually a major focal point on wedding reception tables. While I absolutely love and appreciate gorgeous flower centerpieces, they're not for every bride. Here are some centerpiece ideas that still create a beautiful and sophisticated look, but with minimal or no flowers.
I really love centerpiece for rectangle tables because although it doesn't use attention-grabbing florals, the candles drawn eyes to the centerpiece. Candles are often placed on tables anyway so this is an easy way to incorporate them.
Cacti aren't probably the first thing people think of when selecting their centerpieces but I don't think they should be over looked. They can be a great focal point for a rustic/outdoor wedding reception. If you want a little more color then just use cacti that have flower buds and blossoms.
This idea actually just has to do with the centerpiece container. Spice up plain clay pots by dipping or splattering them with paint. You can either use a plain cream color or add a pop of color with the wedding color scheme. Also, these painted pots would be a perfect addition to cacti.
Terrariums are a unique way to display any type of plants or flowers. These cute centerpieces could also double as party favors if you don't intend to keep the glass containers.
Moss balls are a very simple but beautiful way to decorate tables. Use a container place them on top of vases, or scatter them in the middle of the table.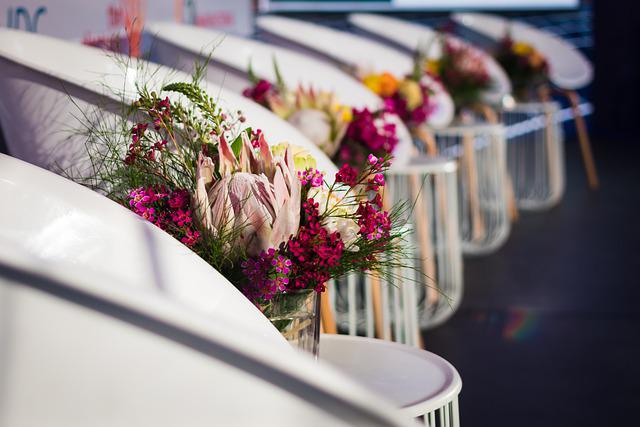 Clean cut single stemmed flowers in transparent vases are another alternative. You could also use tall, clear vases and put cacti or moss balls inside.
Birdcages are a popular decoration piece for weddings that give off a sweet and romantic vibe. Instead of using the same exact size and style birdcage, find different ones and they'll create a fantastic flow of elegance. This option also doesn't require an excess of flowers because you can fill most of the cage with loose moss and then fill the remaining space with flowers. Small or medium size bird houses would also complement birdcages as they are alternated between tables.