Alanya is a hospitable city located on the Mediterranean coast of Turkey. Though it is  remote from airports, it is extremely popular among people. It attracts many tourists. Study Alanya holiday guide to learn about its attractions.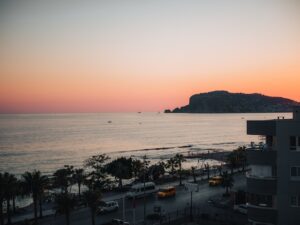 10 things to do in Alanya
Show up at the Dim cave right before the opening, before the arrival of organized groups: wander among stalagmites and stalactites, scaring away bats.
After visiting the Alanya fortress, go down on foot along the winding road, admiring the picturesque views and dilapidated houses.
Train using devices for physical exercises placed along the embankment gazing at the infinitely beautiful sea.
Find out what day of the week a noisy street bazaar is unfolding in your area and buy juicy fruits, fragrant oriental spices and inexpensive clothes.
Enjoy a variety of meat dishes and sweets at least for one evening in one of the cozy cafes.
Take a ride on a ship along a simple route around a peninsula jutting out into the sea and listen to stories about pirates and unlucky lovers who once hid in local caves.
After sunset, go to the port — the most popular place of the resort.

Photo by Chen Mizrach on Unsplash

Rent a bike and take a ride along the embankment.
Climb the Red Tower, do not forget to see the museum exposition located on its first floor.
Set aside half a day to visit Aspendos and Manavgat Waterfall.
Due to the Mediterranean subtropical climate, the resort has a plus temperature all year round. In March, the rapid spring brings real warmth, the air warms up, and by mid—April, the water also warms up.