The wait for the bride and groom to actually walk down the aisle can take some considerable amount of time. Weddings hardly start on time and after the quick mix and mingle guests are left to sit and simply wait. Give your guests something more than just a quick glimpse or scan with a fun wedding program! Below are some cute, trendy ideas.
A more sentimental keepsake that wedding guests can take home are wedding program handkerchiefs. Although somewhat costly, these serve more than one practical purpose-to dry tears of joy and as a program guide. This type of program would fit perfectly into a tea party themed wedding!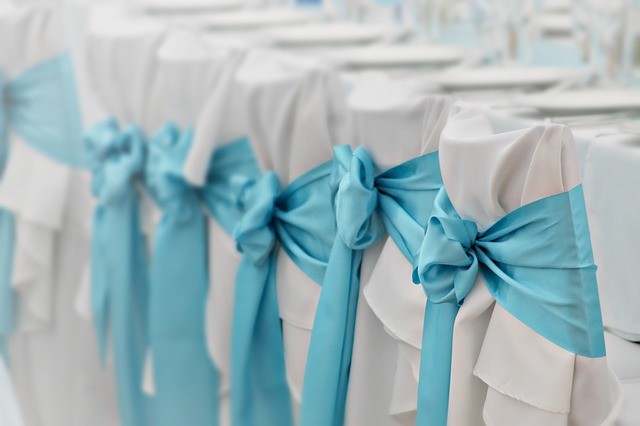 A wedding program that your wedding guests of all ages will be sure to love are foldable cootie catchers! Have them unfolded for guests to grab and fold at their seats. This will fill up that somewhat long wait time and kids will have something to release that young energy during the wedding ceremony!
Provide your guests with a tasy treat! Edible programs are a delight. Save on paper and help the environment by printing your wedding program on chocolate. Having your wedding in the summer or outside? Try edible rice paper. This option might be less expensive and give the bride and groom more options as far as fonts and color on the program.
For those brides that choose to have an outdoor wedding ceremony, provide your guests a fan! Print the wedding program on the fan and hand out to your guests before the wedding ceremony! On the opposite side have your program printer put a word search, mad lib activity, or maze to keep your guests time occupied!
Another option is to print your wedding program on paper bags that will hold the tossable items for the conclusion of the wedding ceremony. Tie the bag with ribbon, twine, burlap, or mini clothespins.
Lastly, print your wedding programs on colored paper or parchment paper, roll it up and tie with ribbon. Place these rolled up wedding programs and place in glass bottles! this is such a cute idea for a nautical themed wedding or beach wedding! Have and X marks the spot watermark that guests can actually follow to find "treasure". The bottle can also be used for refreshment before the ceremony.